Tayst offers local cuisine that provides superior flavor, more nutritious foods, community support, the rebuilding of relationships with food growers and the subsistence of local farms.
In April 2008 tāyst received its certification as a green restaurant and was the first in Nashville to do so. It represents Chef Jeremy Barlow's dedication to sustainability – an emphasis on local food served farm to plate in a restaurant operating with environmentally responsible practices. In September of 2009, tāyst achieved 3-Star Certified Green Status, making it one of only six restaurants nationwide reaching this level of sustainability.
Chef Jeremy Barlow creates dishes based on seasonal ingredients, locally procured whenever possible, and provides you and your guests with the most memorable of food experiences.
For more information on this certified green restaurant, visit taystrestaurant.com.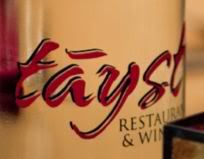 For updates on seasonal food and drink, please follow us on Facebook.
Number of View :1800