O'Toole's Herb Farm is a certified organic herb farm. Their main garden supplies many of the best restaurants in North Florida and South Georgia with organic fresh cut herbs, wild greens and shiitake mushrooms. The Herb Farm has two greenhouses where you will find over 250 varieties of organic herbs, perennials, and vegetable plants for sale. Also located on the farm are two quaint gift shops with all sorts of organic herbal treats, gardening supplies, baskets and terra cotta pots.
Through organic farming methods, O'Tooles provides a stewardship with the land that goes back five generations. It is a philosophy based upon growing a quality product that is nutritious and delicious, replenishing and maintaining the soil's fertility while assisting nature's balance.  No synthetic pesticides or chemical fertilizers are used.
For more information on this organic herb farm, visit otoolesherbfarm.com.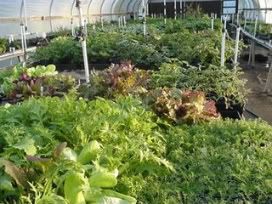 For updates on seasonal food and drink, please follow us on Facebook.
Number of View :2365